Prime Resins makes chemical grouts for stopping leaks in a variety of structures. By analyzing the structure type and the size of the leak, you can determine which product works best for the scenario. A Prime Resins technical consultant can advise you on the best product and approach for your situation. 
The first step to choosing the right product is determining whether you have a weeping leak (hairline crack) or a gushing leak. With weeping or small leaks, a major focus is on the viscosity, or thickness, of the resin. Low viscosity resins easily penetrate the cracks to ensure all leaking areas are repaired. When encountering a gushing leak, quick reaction or 'set' times are important. 
Weeping leaks VS gushing leaks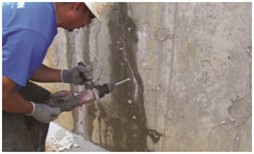 Typical structures include:
Manholes
Tunnels
Storm sewers
Pipe joints
Retaining walls
Seawalls
Dams
Below-grade parking decks
Water treatment tanks
Elevator pits
Box culverts
Below-grade vaults, walls, pits or floors
Dams, nuclear plant cooling basins, public aquarium tanks, building foundations, water and sanitary sewer lines. Prime Resins products seal leaks in all these locations.
Uncontrolled infiltration and inflow — I&I — is a budget killer for water authorities. Chemical grouting is a cost-effective, time-tested solution to controlling I&I in manholes and pipes. Learn more about our I&I solutions here.
For more information please contact t: 1-800-321-7212 or e: info@primeresins.com
Resources for leak sealing: