SoiLok® 20 for stabilizing the footing of a building – 1028 Market Street / San Francisco, CA
Application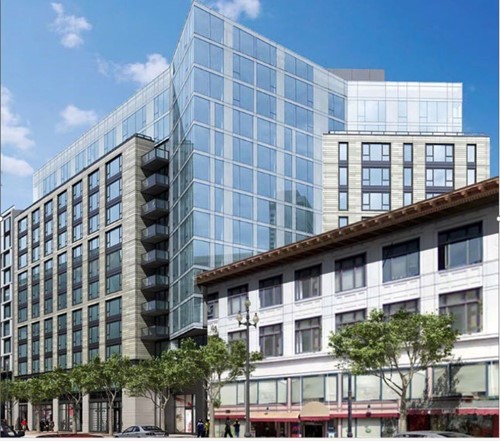 1028 Market Street was once a 1907 era building home to the Hollywood Billiard. In 2019 the building was purchased for $10M and demolished to make way for a $60M new 120-foot-tall structure providing affordable housing and ground level retail in San Francisco's Tenderloin neighborhood. Before the 1028 Market Street footing could be removed, the footing of the adjoining four story historic building needed to be stabilized. Underpinning the footing by means of permeation grouting was specified to control sloughing during the removal of the footing.

ABM GeoConstructors, Inc. proposed a value-engineered alternate design to the original concept of using ultrafine cement or sodium silicate grout. SoiLok 20® from Prime Resins was submitted and approved by the Engineer of Record due to its performance and specifications.
Solution
A thorough verification testing program was performed prior to the production work. The verification program was necessary to verify the design parameters of the treated grout columns. The successful completion of the SoiLok chemical grout test program confirmed the design and installation assumptions utilized for these tests would perform as expected, stabilizing the soils beneath the footing of the adjacent structure during the removal of the 1028 Market Street footing. One of the challenges of injecting beneath the footing of the adjacent building was it had to be done with the 1028 Market Street footing still in place.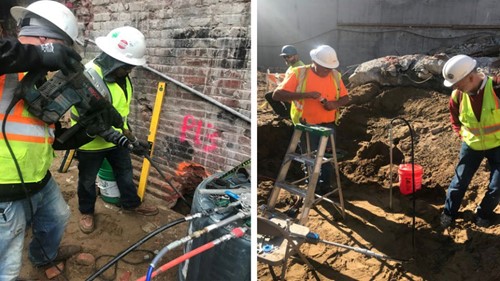 1- Injection Pipe Installation
2- Bulb Grout Injection
Multiple injections were installed at varying inclinations beneath the 118-foot-long adjoining footing to achieve a uniform bearing grout column beneath the adjacent footing, as depicted below. SoiLok was chosen as the optimum product for this project due to its ability to permeate silty soils, longevity, and performance during testing. Production grouting work was completed in December 2020.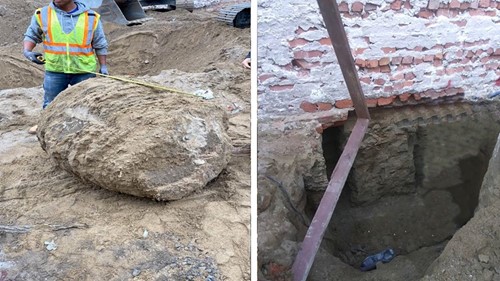 1- Exhumed Grout Bulb - Diameter & Length Verification                              
2- Underpinning Pit Excavation