Void filling and slab lifting a boat ramp
A metro Atlanta marina reached out to Concrete Corrections, a metro Atlanta contractor specializing in concrete raising, about a void below their forklift boat launch. The void, a result of erosion from wave action in Lake Lanier, caused the ramp sink slightly above.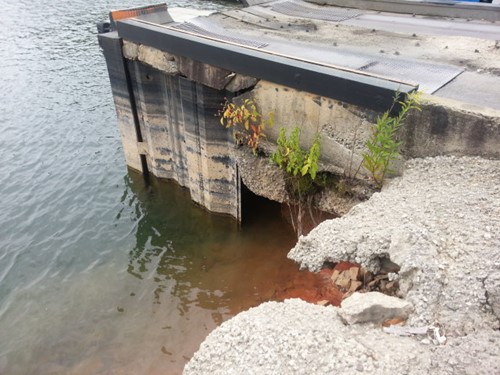 The marina was looking to prolong the replacement of the launch ramps. During the site visit, the size of the multiple voids was determined, ranging from three to five feet in width in three separate sections. A plan of action was then devised. To reduce the costs, a plan of repair was scheduled during low water dates.

The repair crew drilled through 20" thick concrete and the steel plates covering it. Approximately 2000 lbs. of Precision Lift 4.0 was injected to fill the voids and stabilize this area.
Precision Lift 4.0 was chosen because of its ability to handle heavy loads. Its fast set time of 20-25 seconds also ensured that it would cure before it could wash out. This high-density polyurethane foam is used for void filling, compaction grouting, slab lifting and stabilization, and undersealing slabs. It is also eco-friendly and inert in its cured stage and will not erode in water. It was a great fit for this scenario.
Workers were able to displace the remaining water and slightly lift the concrete decking. The project took just one full day to complete, saving thousands of dollars and weeks of down time compared to tear out and replacement.