Chinese freight line requires precise slab lift
Project location: Chaolianggou Tunnel, Hebei province, northeast of Beijing, China
Distributor: Joinda
Client: Chinese Railway Bureau
Scenario:
A Prime Resins customer was hired to repair a section of rail freight tracks inside the Chaolianggou Tunnel that had settled due to erosion around the concrete track slab. A seven-meter section of track had settled approximately 7-10 mm, enough to cause track vibration and force trains to slow down. The situation could have grown into a potential derailment risk. Uniform, precise lift was imperative in this job.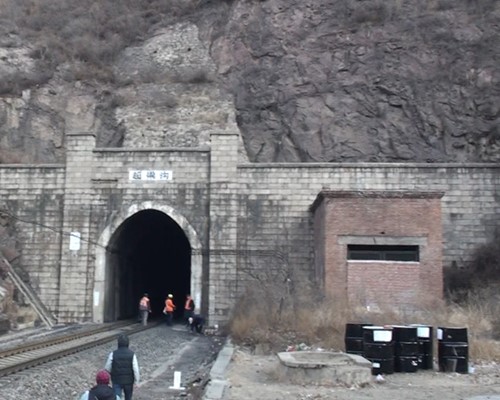 Entrance to the Chaolianggou Tunnel for a freight rail line



Complications:
There were complications to address as well. First was the slab itself. The tracks sit on a sandwich of two concrete slabs—a "sleeper slab" and top slab that are bonded together. These slabs must stay bonded together, so Prime Resins technical staff devised a special packer system to ensure that crews pumped foam below the joined slabs rather than between them.
Time was the second complication. Crews had a three-hour window of rail line shutdown, so all the staging, installation of packers, injecting and cleanup had to be completed in that relatively short window given that everything needed for the job had to be carted into the tunnel.
Solution:
Technicians injected Precision Lift 4.75# polyurethane resin beneath the slabs through a grid pattern. The crew drilled holes approximately 16" apart, but technicians did not need to inject every port. They achieved uniform lift by injecting a dispersed selection of ports, so all ports were not needed. They used laser levels to ensure precise lift. Technicians injected for about an hour, so they completed the work in plenty of time.
Outcome:
They achieved the desired result. Within the hour a freight train traveled through the tunnel with no deformation or settlement of the foam and track.