Void fill behind a sheet pile retaining wall at busy port
Client: Jacksonville Port Authority
Contractor: Foundation Professionals of Florida
The Port of Jacksonville (Florida), known as JAXPORT, is among the busiest seaports on the eastern seaboard. With three cargo facilities and a cruise passenger terminal, JAXPORT moved 8.7 million tons of cargo, nearly a million containers, and its two millionth cruise passenger in 2016.
Problem:
There is a sheet pile retaining wall under the bridge to the passenger terminal that experienced corrosion. This created points of penetration through the wall, resulting in erosion. The soil loss created several voids behind the wall. Eventually, further erosion would likely compromise the bridge.
Solution:
The port engineer specified chemical grouting to fill the voids. Foundation Professionals of Florida opted to use Precision Lift 4.0, an expansive two-part polyurethane structural foam used to fill voids and lift concrete. The contractor does a lot of seawall work and typically uses Prime Flex 920, a highly expansive hydrophobic polyurethane foam. In this case, however, they opted for the Precision Lift 4.0# to achieve a high-strength cured foam with less hydraulic force.
 "We decided that 4.0 was a better choice in this situation," said David Brown of Foundation Professionals. "The engineer was concerned about expansive pressure against the sheet pile. The Precision Lift gave us foam with the structural integrity and compressive strength we needed with less hydraulic force than Prime Flex 920." The crew did about 10 days of work over the course of a month from a boat. They injected the chemical grout through the wall using Bang-in Ports.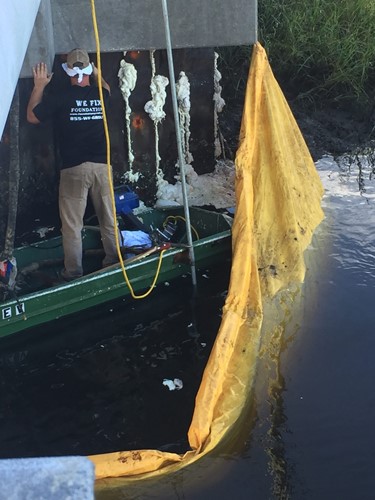 Challenges:
The biggest challenge was working around the port schedule between the cargo and the cruise passengers. JAXPORT is in the top two or three ports in the U.S. for vehicle imports and is a year-round port for Carnival Cruise Line.
Outcome:
The crew successfully filled the voids and sealed the penetrations in the sheet pile without interrupting port operations.
"It was neat to work on a project where we affected so much daily traffic," said Brown. "This is the main bridge coming into the terminal with 15,000 cruise passengers every week. We were able to provide a solution that did not require any shutdown time for the busy port."