Lock and dam repair: leaks sealed with polyurethanes
Client: U.S. Army Corps of Engineers
Contractor: Powers Equipment, Pasco, Wash.
McNary Lock & Dam is a 1.4-mile-long (2.2 km) hydroelectric dam spanning the Columbia River between Oregon and Washington completed in 1954. The Washington side of the dam has an 86-feet-wide (26 m), 683- feet-long (208 m) navigation lock to lift boats. In addition, there are fish ladders for salmon and steelhead trout, one on each shore.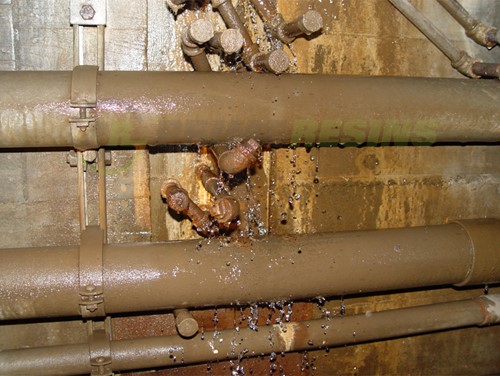 Problem:
Several active water infiltrations plagued the McNary Lock and Dam. Water flowed through cracks and joints in lock chambers, dam and lock galleries, navigational lock joints, and expansion joints in the fish ladder. Gushing leaks existed in some of the lock galleries. Significant corrosion to structures and equipment inside the dam structure resulted from the many leaks. Other cracks were tighter, with the flow of water leaking fluctuating with reservoir levels.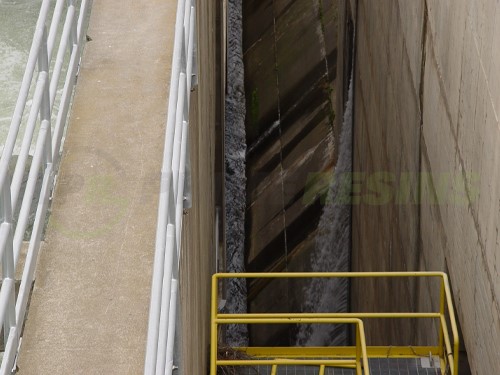 Solution:
Prime Resins provided technical support on the project. The contractor took a two-pronged approach. First the crew injected Prime Flex 920 hydrophobic polyurethane to create a watertight curtain to cut off gushing leaks. Next, they injected Prime Flex 900 XLV hydrophilic polyurethane under pressure into cracks throughout the structure. The hydrophilic nature of the material results in tenacious bond to the concrete. In places with wider gaps and defects, the crew used the activated oakum technique to seal the leaks, saturating oil-free oakum with 900 XLV using a grout needle.
Outcome:
The leaks outside and inside the structure were all successfully sealed. Water from the Columbia River no longer ran across equipment and fittings within the dam structure.