Sealing Leaks With Acrylates: Real-world example
Contractor: SSESCO Inc.
Client: Private property owner in the Bronx, New York
Problem:  Sealing leaks in a basement wall and floor is ordinarily a fairly straightforward job. But when the basement is that of a Bronx, New York, 17-story apartment building and the groundwater leaking in through cracks in a wall and the floor is contaminated with heating oil, it's another story. That's exactly the scenario faced by specialty contractor SSESCO Inc., hired to seal the leaks by the building's owner.
Old buried heating oil tanks had leaked, contaminating the soil and the groundwater. That meant that water seeping in and collected by a sump pump was therefore also contaminated, causing extra challenges in treatment. SSESCO needed a product that they could inject behind the wall and beneath the floor that would create a seamless barrier—a curtain wall—that would be chemically resistant and still react properly in the presence of the oil. They also needed a chemical grout that would not create expansive pressure, which might squeeze or crush the old tanks, releasing more oil.
Solution:  In August 2014, SSESCO contacted our senior technical consultant, Michael Vargo, who recommended a new type of grout, an acrylate resin. Vargo suggested AR 800 acrylate resin because it performs well in the presence of high groundwater and produces an elastomeric gel that does not expand.
"A polyurethane probably would have worked in the contaminated environment, but we didn't want that expansive pressure, which is why we recommended the acrylate," says Vargo.
AR 800 was tested in the lab with samples of the bunker oil—a thick sludge—provided by SSESCO, proving its chemical resistance and ability to polymerize properly with the contaminated environment.
Outcome:  Once EPA approval for the repair plan was obtained, the work started in early July 2015 and lasted two and a half weeks. The wall and floor are now dry and leak free. All told, 475 gallons of grout and an equal amount of water were pumped to complete the job.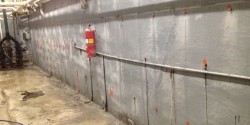 The groundwater seeping in through the drilled port holes was contaminated with old heating oil.