Bronte Beach ocean pool rehab
Client: Waverly Council Sydney
Bronte Beach Baths is a popular recreation spot in the suburbs east of Sydney, Australia, 2 km south of the famous Bondi Beach and Icebergs Pool. One of its major draws is a 30-meter ocean pool built against the rock cliff. The Bronte Baths concept started in 1883 and construction began in 1887 for a sum of £150, in today's cost approximately $3m. The Baths opened the same year, adopting regulations for conduct:
'Gentlemen could bathe between daylight from 10.00 am to 4.00pm each day. Ladies could also bathe at the same time daily, except Sundays and public holidays which were reserved exclusively for men.'
(Bronte Baths: A History, Waverly Library, 2008)
Major storms in 2015-16 battered the pool, so a range of repairs was scheduled. Those repairs included removing the existing surface then resurfacing the pool, which was badly discolored and covered with algae growth. Waverly Council hired a local contractor to do the work.
Problem:
After draining the pool, technicians found that seawater was seeping up through cracks and leaking seams in the bottom of the concrete pool. In order to resurface the pool, it would need to be dry for proper adhesion of the coating. They had to seal the leaks.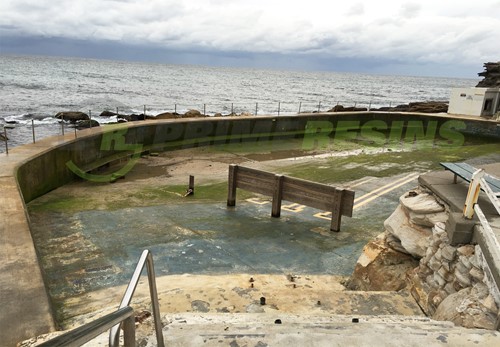 Solution:
The contractor opted for undersealing the pool with Prime Flex 920, a hydrophobic polyurethane resin that cures into a hard, watertight mass. Additionally, the material is certified to meet NSF/ANSI Standard 61 for contact with potable water, so while drinking water was not involved, the pool's location in the ocean made choosing the eco-friendly product an easy decision.
Technicians drilled a pattern of 10mm x 400mm deep holes on either side of the leaking seams and cracks. They injected approximately 500 liters of Prime Flex 920. This undersealed the pool and sealed the leak as the resin traveled up through the defects.
Complicating factor
Because the pool is adjacent the ocean and waves crash over the pool walls at high tide, the crew worked at low tide and dewatered the pool prior to work each day.
Outcome:
The grouting worked perfectly to create a watertight barrier beneath the pool, allowing the crew to successfully resurface the entire pool. Today the pool is clean, gleaming and safe following the work.