The Revolution Pump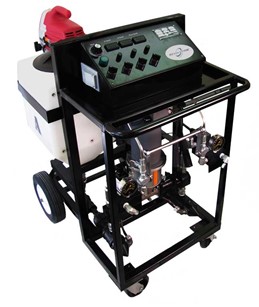 The Revolution Pump is the only portable system on the market for slab lifting with foam Concrete slab lifting and void filling with polyurethane foam is fairly recent innovation that is faster, cleaner, and usually less expensive than mudjacking. And if tight access or underground pipes are issues, foam lifting is the only choice beside replacement.
Slab lifting with foam is a profitable addition to your service line. The award-winning Revolution from Prime Resins offers high performance in a compact, portable package. This is the only truly portable slab lifting system on the market.
The Revolution is a two-component slab lifting pump that uses gear-driven technology. Unlike piston pumps, the simplicity of one continuous rotary motion means exceptional output efficiency plus less energy and wear and tear. The Revolution is a medium-pressure pump that runs on standard 110-volt power, with on-board heaters and a built-in recirculation system. This is a combination of features you won't find on any other pump.
The Prime Resins Revolution compact slab lifting system includes four key components engineered to work as one:
Precision Lift Foam – a high-density, structural polymer that expands and develops hydraulic lift to level and stabilize slabs. No shrinkage+3.5# density= no call backs for crushing foams
Revolution Pump – a rotary workhorse running on 110 volts with onboard heaters and built-in recirculation system.
Equalizer Gun – an impingement gun that helps equalize pressure from the different viscosities of A and B components without crossing over.
Prime Practices – proven how-to procedures for a controlled lift within 1/10″ of the desired grade.
The Equalizer Gun
Uses:
Concrete leveling – slab jacking
Void filling
Soil stabilization
Advantages:
No O-rings
Versatile – Three injector sizes for various viscosity materials and ratios
Quick and easy maintenance
Button head port connection system for soil grouting applications
Screw-on port for concrete leveling, slab lifting applications
Power Requirements: 120v @ 20 amps Output Pressure 0-1200 psi Max. Delivery 1.25 GPM Heated Discharge Hoses 3/8" x 25