Cartridges - Quick Mix, Single shot and Double shot materials
Prime Resins has a variety of convenient cartridge systems that provide an easy to use portable system.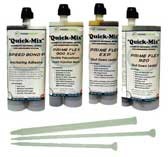 Quick Mix - two-component materials
Since 1987 we have been packaging cartridges of epoxies in our signature Quick Mix cartridge system. These dual side by side cartridges were designed for dispensing two-component resins. We offer our epoxy, polyurea and polyurethane resins in this easy to use portable system. A variety of ratios and sizes are available to best suit your project. Packed either 6 or 10 per case with one static mixer and retainer nut per cartridge set.
See product technical data sheets for availability and size based on particular product. 1:1 (300 ml x 300 ml, 600 ml x 600 ml, 750 ml x 750ml), 2:1 (300ml x 150 ml, 600 ml x 300 ml), 4:1 (300ml x 75 ml), 10:1 (750 ml x 75 ml) ratios available – Static mixing nozzles available ¼" X 32, ¼" X 48, ½" X 24, ½" X 36
Single shot - one-component materials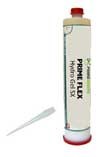 Easy to use single tube cartridge designed to fit any standard 1/10th gallon cartridge gun. Available with Hydro Gel SX water activated polyurethane resin for minor active leaks. Packaged 20 tubes per case with screw in 3-1/2" tapered nozzles. Hydro Gel SX 12.8 (1/10th gallon) cartridges