Municipal Sewer Grout School registration now open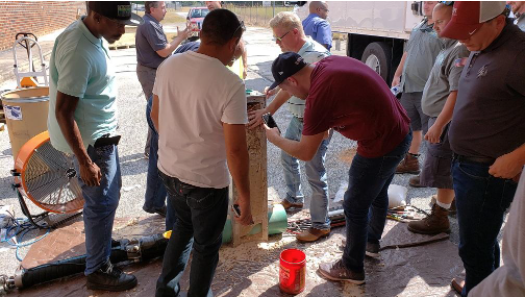 We're proud to announce that the first live and in-person Grout School for 2021 is now set for August 4 & 5 in Conyers, GA. Prime Resins, Logiball Inc. and Aries Industries will work together to provide both classroom and hands-on instruction for municipal grouting.
With intent to eliminate infiltration for the long term, specifications for injection grouting of sewer mainline joints, service laterals and manholes are growing more complex, more demanding. With a keen eye on longevity, what you know really matters—as an asset owner, specifying engineer, and utility contractor.
Over the course of two days (classroom & hands on), three

 
Partners for Progress
 

will serve up 9 instructors to share from a holistic perspective—methods, materials, conveyance, standards, and best practices. You will be adding building blocks for improved decision-making, for teamwork, and for meeting high expectations. It's not easy to know all, but its necessary to begin with a solid foundation. If you agree it's best to understand this practice from the contractor perspective, this is where you need to be.  
THIS CLASS IS NOW FULL. IF YOU'D LIKE TO BE ADDED TO A WAITING LIST, PLEASE CONTACT KEVIN ANTHONY ( KEVIN . ANTHONY @ PRIMERESINS . COM)
Full agenda:

DAY 1 – MUNICIPAL SEWER GROUT SCHOOL
Conyers, GA -- August 4-5, 2021

Time

Presentation/Demonstration

Location

Presenter

8:00—8:30

Welcome—Introductions, Clear Objectives.  How to get the most out of the next 2 days

Classroom

Don R.

8:30--9:15

Introduction to Municipal Grouting

Classroom

Don R,

9:15-10:00

Guest Expert—James Shelton, VP ARCADIS

Classroom

Jim S.

B   R   E   A   K

10:15-11:15

NASSCO/ICGC/Infiltration Control

Classroom

Marc A.

11:15-12:00

Grout Truck Tour

Outdoor Arena

Ron M.

L    U    N    C   H

12:30 --2:30

(six small groups of 4-5 each—20 minutes per session)

Break-out Sessions

Grout Workstation
Check Valve Rebuild
Grout Truck (Inside)
Grout Truck (Outside/back)
Transducer Testing
Soakum Oakum™ for Manholes

Outdoor Aren

Michael V.
Marc A.
Ron M.
Chris S.
Aries
Don R

B    R    E    A    K

2:45-3:45

Grout Truck system with water

Bucket Test
Packer ASTM Test on System Integrity
Packer pump/void calculation
Questions on get-times/flow rates

Outdoor Aren

Marc A.
Ron M.
Don R.

3:45—4:15

Annulus flow demonstration in lined pipe

Outdoor Arena

Marc A.
Ron M.

4:15—5:00

Recap of day, Q&A

Classroom

All

5:00—6:00

Catered Diner – Georgia Hospitality

Classroom

All

7:00—8 ish

Profession Networking—Local Watering Hole

TBA

OPTIONAL
DAY 2—MUNICIPAL SEWER GROUT SCHOOL
Conyers, GA – August 4-5, 2021

Time

Presentation/Demonstration

Location

Presenter

8:00 -- 8:15

Welcome Back—Today…

Classroom

All

8:15 -- 9:15

Grouting Material – Safety Training + Test

Classroom

Don

B    R    E    A    K—Class photo

9:30 – 10:15

Grout Tank Mixing

Outdoor Arena

Michael/Tom

10:15 – 10:45

Logiball Mainline & Lateral Packers—Set up

Outdoor Arena

Marc

10:45 – 11:15

Logiball Mainline & Lateral –Troubleshoot

Outdoor Arena

Marc

11:15—12:15

Guest Expert—What we learned-Test Cell

Classroom

Jim S.

L    U    N    C    H

12:45 – 1:45

Grouting Manholes with Urethanes/Acrylics

Outdoor Arena

Scott K

1:45 – 2:15

Inject Grout Box with Packer & Reveal

Outdoor Arena

Marc A/Ron M.

2:15 – 2:45

Sealing Annulus

Outdoor Arena

Marc A/Ron M.

2:45 – 3:15

Lateral Connection Sealing Demo

Outdoor Arena

Marc A/Ron M.

3:15 – 3:45

End of Day Operating Procedures—checklist

OR  Sample Test for ITCP program—Trial

Classroom

Don
Jim S.

B    R    E    A    K

4:00 – 4:15

Open discussion—Interactive Q&A

Classroom

ALL

4:15-- 4:30

Closing Comments—Evaluation Form

Classroom

ALL

4:30 – 4:45

Issue Certificates of Completion

Classroom

ALL

END OF SCHOOL—SAFE TRAVELS