Cross-stitching for structural repair of an historic landmark
Client: Daytona Beach Parks and Recreation
Contractor:  APM Construction, Daytona Beach, Florida
The Daytona Beach Bandshell has been a prime attraction on the "World's Most Famous Beach" since its completion as a WPA project in 1937. While most visitors are drawn by the performances, others come just to see this beautiful coquina rock landmark. The venue is on the U.S. National Register of Historic Places.
Problem:  A modernization study concluded that while the bandshell was in "remarkably good condition," there were a few structural and cosmetic problems that needed attention. Consequently, the city hired Burke, Bales, Mills and Associates of Orlando to identify the specific problems and develop a repair strategy. Donald Moe, of Walter P. Moe and Associates, the structural engineer overseeing the project, determined the most serious problem was structural cracks in the shell and over the doors and windows.
Solution: Moe specified epoxy injection to repair the cracks. APM Construction of Daytona Beach won the contract to make the repairs. The site supervisor for APM was concerned that traditional epoxy injection might be difficult and cause a new set of problems. The coquina stone, which is sedimentary rock made of seashells or coral, is porous and irregularly shaped. This makes it difficult to seal the surface. In addition, the stone is light colored and might be stained if resin migrated through the pores in the stone. The distributor in Jacksonville suggested contacting a Prime Resins technical consultant for product and method advice.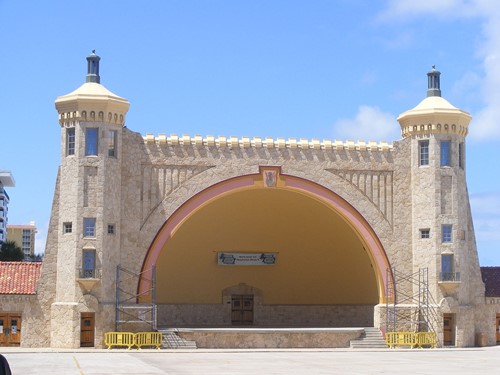 The rep recommended a thixotropic injection resin, Prime Rez 1600, and a technique called cross-stitching to repair the cracks. Thixotropic resins have a consistency much like ketchup. They can be injected into cracks, but won't run or migrate once they are in place. Cross-stitching involves drilling holes from the surface through the crack at 45-degree angles and bonding steel rods into the holes. This technique knits the structure back together and reduces the chances the cracks will continue to grow.
In most areas of the bandshell, APM drilled 1/2″ holes 16″ deep at intervals of 6 – 8″. They alternated the direction of the holes so one passed through the crack from left to right and the next from right to left. After drilling, they flushed holes with high pressure air to clean out residual dust and then injected with Prime Gel 2000, a high strength epoxy gel adhesive to anchor the rods. Immediately after injection, they inserted 3/8″ stainless steel rods into each hole. Over the windows and doors, they drilled 3/8″ holes 12″ deep, and used 1/4″ stainless steel rods. After the rods were bonded in place, they injected Prime Rez 1600 directly into the cracks.
Outcome: The Daytona Beach Parks and Recreation Department was pleased with the results. Not only were the cracks repaired, but the structure was strengthened with virtually no staining of the beautiful coquina stone. As a result, the shows go on at the bandshell nearly 80 years after its opening.