Undersealing a Dam Spillway With Prime Flex 920
Prime Flex 920 hydrophobic polyurethane foam seals a leaking spillway on a manmade lake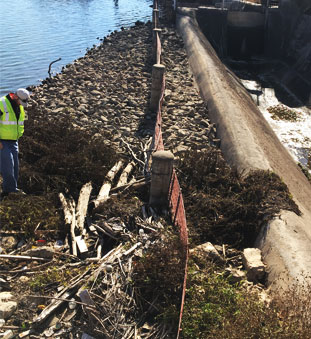 Client: City of Lake Quivira, owner of the Quivira Lake spillway (Suburban Kansas City, Missouri)
Problem:
The spillway of a dam on a manmade lake in Lake Quivira, Kansas, was leaking. Water was coming from the lake side and seeping through the concrete across the sides and the bottom. There was standing water at all times. City officials were afraid the leaks would reduce the lifespan of the structure due to the constant water penetration.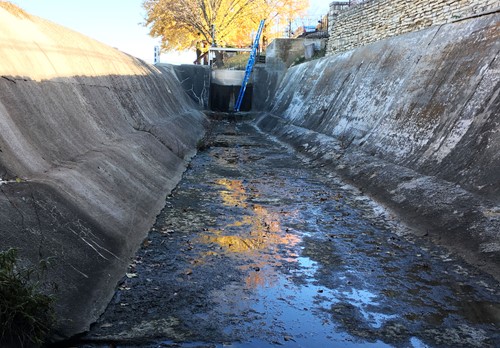 Solution:
The contractor, working with an engineering firm, consulted its Prime Resins technical consultant to explore chemical grouting options. The rep recommended Prime Flex 920, a hydrophobic, water-reactive polyurethane, to curtain grout the sides and underseal the bottom. This product has been used successfully in other dam projects and countless curtain grouting applications. The contractor was familiar with 920 since they had used it before though in much smaller applications.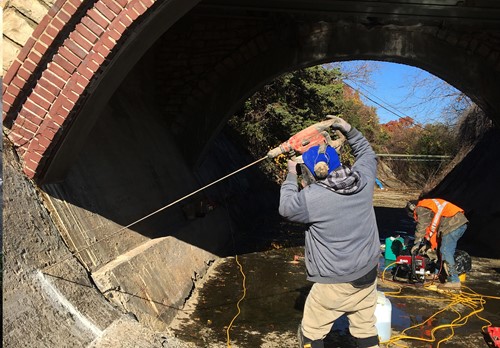 Why Prime Flex 920?
The product recommended had a successful track record in many other curtain grouting and undersealing applications. The engineers had other dam case studies to consider in approving Prime Flex 920 for the project.
Challenges:
The biggest challenge was not knowing how much material would be needed. "We just didn't know the size of voids," said the contractor. Racing winter was the other challenge. The crew completed the four-week project at the end of fall. "We were lucky that it was mostly dry and we had moderate temperatures. A week later the winter temperatures hit."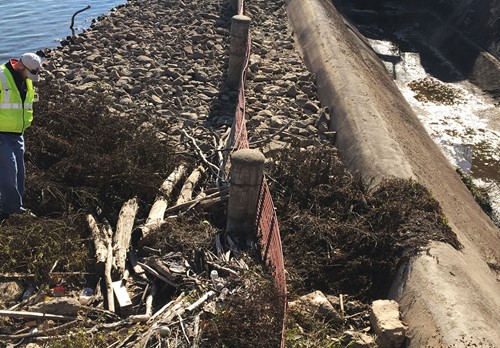 Surprise:
The contractor had a ground penetrating radar survey done that indicated it might take as much as 1000 gallons to fill all the voids. In the end, it took half that much, which delighted the city officials.
Alternatives:
The only real alternative would have been to dam the lake on the other side and tear out and replace the spillway. That may still be required several years down the road, but this buys the city time before having to expend 10 to 20 times more than this repair plus the disruption to residents of drawing down the lake. "This is probably the only option besides tear down," said the contractor.
Outcome:
"Everyone is really happy," said the contractor. "I went by there a few weeks ago (nearly six months after completing the work) and it was bone dry with a full lake level. Nothing was seeping in." The contractor also got another spillway job as a result. A dam owner came by during the Lake Quivira project and saw what they were doing and hired them for a similar, though smaller, project.